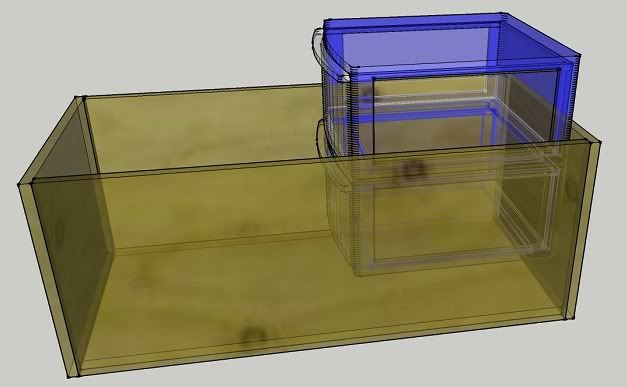 Sump filter design
I had a few reasons for wanting to make my own plywood sump:
I wanted to make plywood aquariums but have never worked with wood before, so a simple sump seemed like an easy way to start
I wanted to install a continuous water changing system and therefore needed to modify my existing sump. I figured that it would be just as easy to custom make a sump with the necessary modifications.
I wanted a wet / dry low maintenance trickle filter and didn't have room in my old sump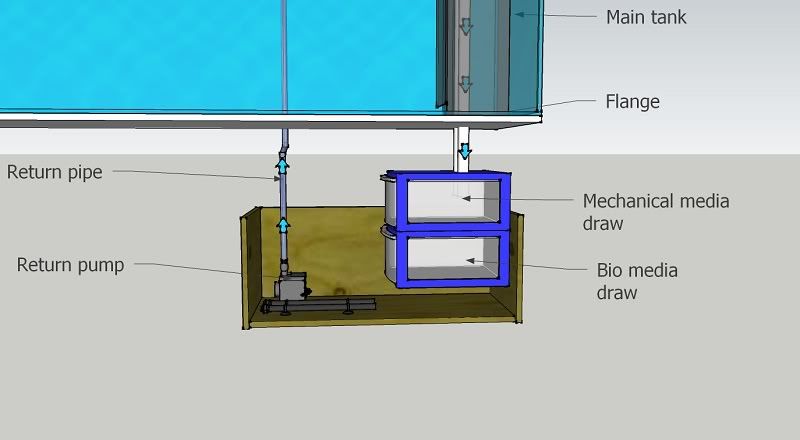 Intended sump layout in tank cabinet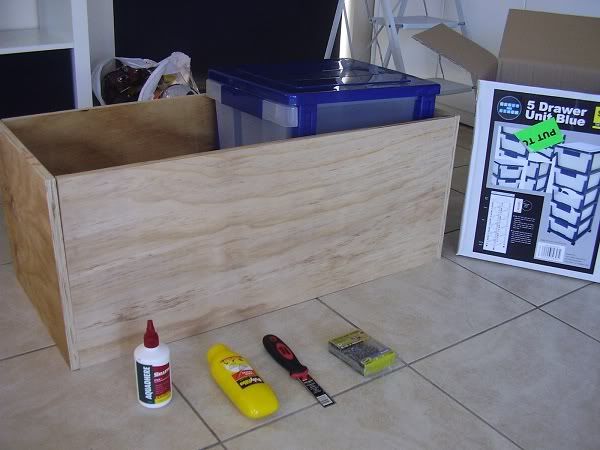 Supplies
SUPPLY LIST
From Bunnings:
$31- 2400mm x 1200mm 17mm plywood panel from Bunnings, pre-cut to requirements
$17 - 30mm x 30mm x 2.4m treated pine bar, pre-cut to requirements
$11 - Polyfilla Large Cracks
$11 - Glue - Selleys adhesive aquahere exterior
$11 - Screws
$5 - Norton cloth tape
$27 - Thompson's water seal paint
$8 -Paint brushes
$18 - 32mm bulkhead
$7 - reduction fittings for bulkhead

From the reject shop:
Tools:
$17 - Hole saw set

$16 - 2 x Mitre & Corner clamps
$15 - 2 x G clamps
$6 - Paint scraper
 I used a miter & corner clamp to ensure the butt joints were square
The plywood was cut into the following lengths:
Base : 900mm long x 400mm wide

Sides: 900mm long x 366mm high

Ends: 434mm wide x 366mm high

I started by joining the long sides to the base. This is how I did it:
The miter & corner clamps held the plywood exactly where I needed it.
I then drilled a hole at each end through the base into the side.
Then I put screws into the holes

I took the lamps off, took the screws out and ran glue along the end of the ply.
Then I screwed it back together and wiped away excess glue with a damp cloth.
I did exactly the same for the other side.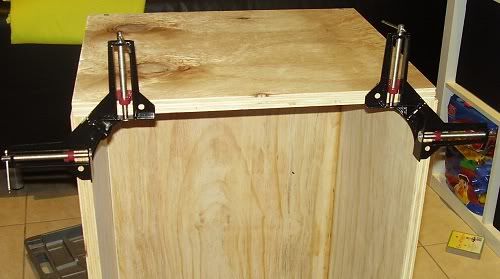 I used the miter & corner clamps to get the ends square as well
I attached the ends using much the same process, using 4 screws and gluing the end. I wiped away the glue with a damp cloth.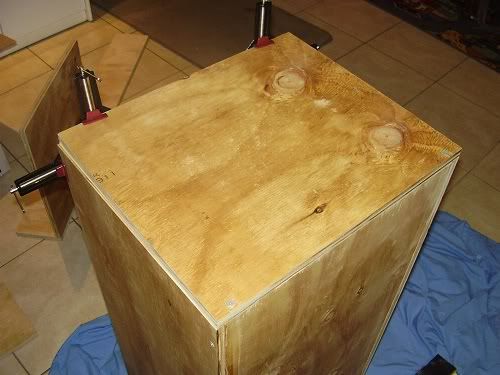 End with first screws put in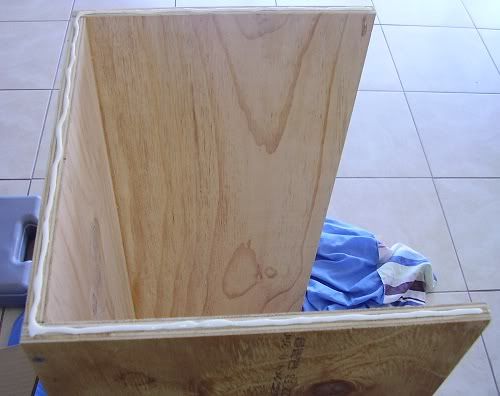 End removed for gluing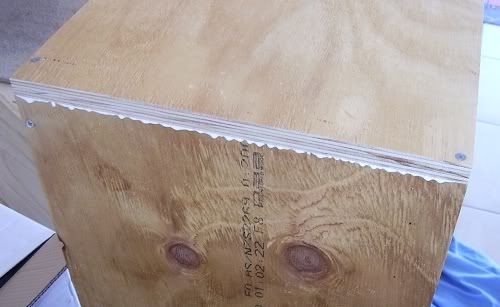 End put back and screwed down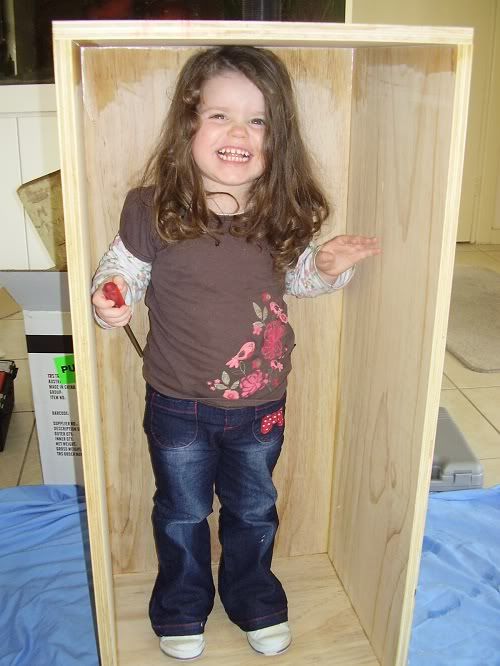 "Look Daddy! It's a house!"
I drilled a large hole for my bulkhead. This took a LONG time using my wife's battery powered drill!
I then drilled and added screws along every join in the tank, with the screws spaced about 60mm apart.
Holes drilled for the rest of the screws and the bulkhead for sump drain fitted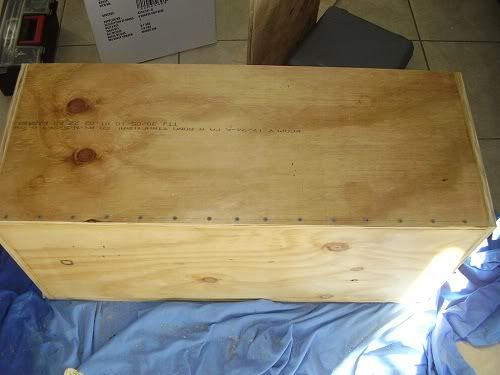 I added screws every 60mm
I then added a couple of 30mm x 30mm pine bars to ensure the sides don't bow. This was probably overkill.
 Pine bars clamped on
Pine bars screwed and glued into place
I lined the seams inside the sump with cloth tape. I figured that this would help prevent any leaks because the liquid rubber would have a solid surface to push against. I'll soon find out if my idea is correct... 
 Cloth tape over corner seam
 Cloth tape covered every seam in the sump
I pushed a small square of tape into the corner to cover the hole
I applied the first coat of liquid rubber. It didn't seem to bond to the tape. I will avoid using tape on future projects.
Liquid rubber painted over tape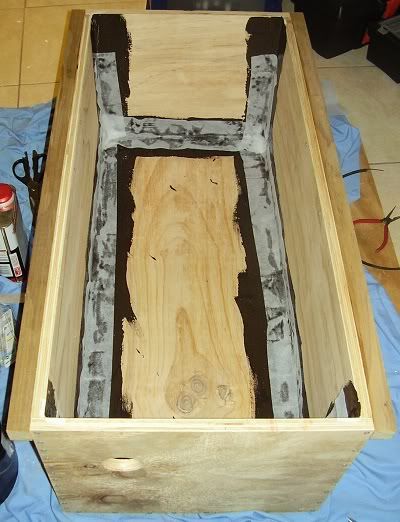 Geo-cloth pressed into liquid rubber over seams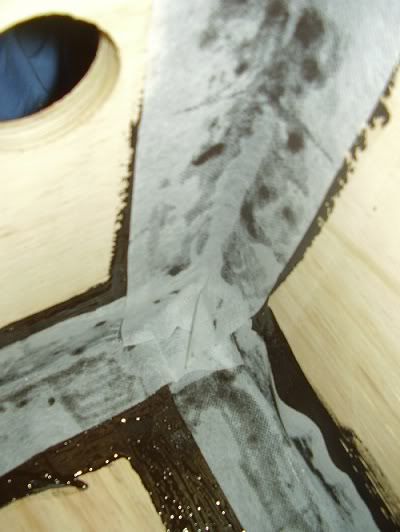 Close up of geo-cloth corner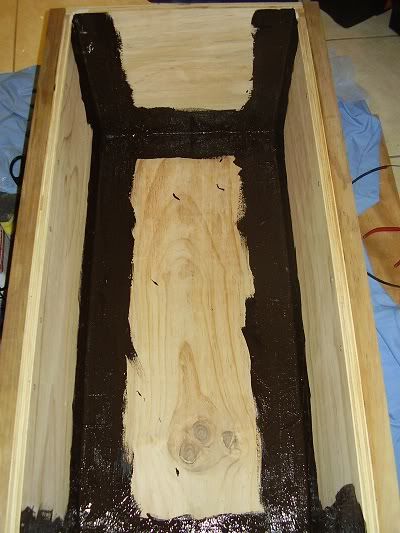 Second layer of liquid rubber painted over geo-cloth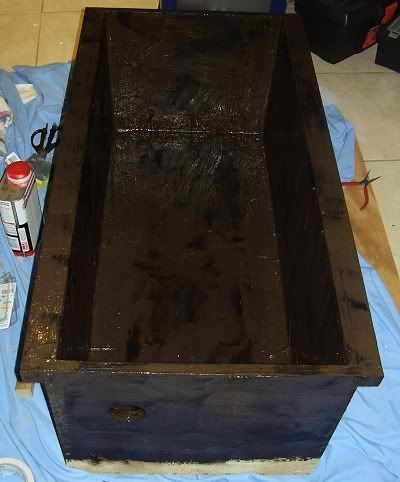 First coat finished
Then, typically of me, I put the project away and haven't touched it since. Must get it back out and finish it!